This succulent tasting and nutrient packed vegetable is popular among commercial and home gardeners alike.
NOTE: We no longer take smaller orders. Minimum asparagus order is 25.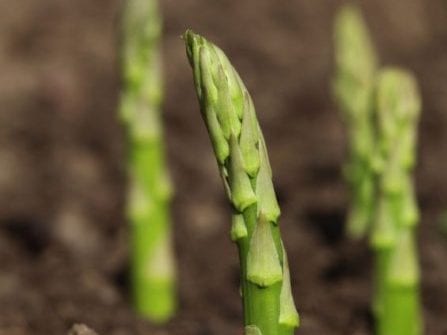 We offer one tried and true variety that is sure to perform and is tolerant of colder climates.
Our asparagus crowns are pack in bundles of 10. All nursery stock is available from the first on April through to early June. No orders will be held after June 1st, unless it has been paid in full. Please have a look at our Catalog for more information and description of the variety.
Guelph Millennium
This all male variety is known for its cold tolerance, its productivity, and the solid green colour of its tasty spears.
Asparagus grows best in well-drained soil with a pH of 6.5-7.0. Fertility is important when growing it and organic matter can be added to increase fertility, a soil analysis can be performed to determine the needs of your field.
Asparagus prefers a sunny area. A trench approximately 10 inches deep should be dug and a fertilizer rich in phosphorous can be added to soil before planting. Crowns should be planted 12 inches apart in the trench, and it is recommended to have the rows 4 feet apart.
Cover the crowns with an inch of soil after the first planting. As shoots grow during the summer continue to full the trench in, so at the end of the first growing season the trench is level and the crowns are approximately 10 inches below the surface (please refer to graph below).
By filling the trench in gradually this helps with weed control during the first season. There should be no harvest the first season, and a very light harvest the second season. Each season the harvest time may be extended a few weeks longer as plants mature. Each year allow some stalked to develop into ferns, as this will allow the nutrients to reach the base of the plant so it can establish itself.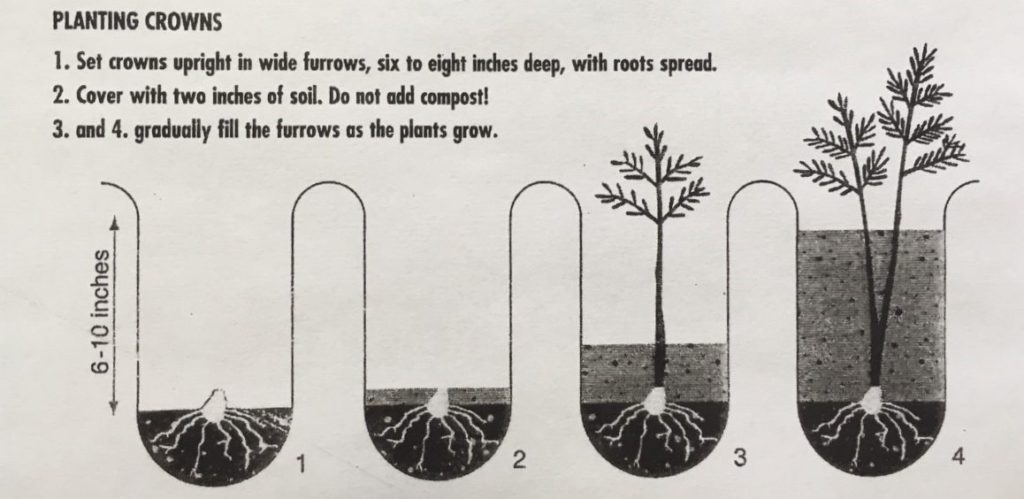 Special Note
While we guarantee satisfaction, we cannot be held liable in any way for more then the purchase price of the plants. We cannot be held liable for orders lost or damaged in transport due to improper address or shipping delays. If you are not satisfied with the plants you receive please contact us immediately as all claims must be in by the first of July.
Address
C.O. Keddy Nursery Inc
982 Charles Keddy Rd
Lakeville, NS
B4N 3V7
Contact
Phone number: 1-902-678-4497
Fax: 1-902-678-0067
keddynursery@xcountry.tv