With its' rich and tart flavour rhubarb is becoming increasingly popular in baking, desserts, jams and juicing.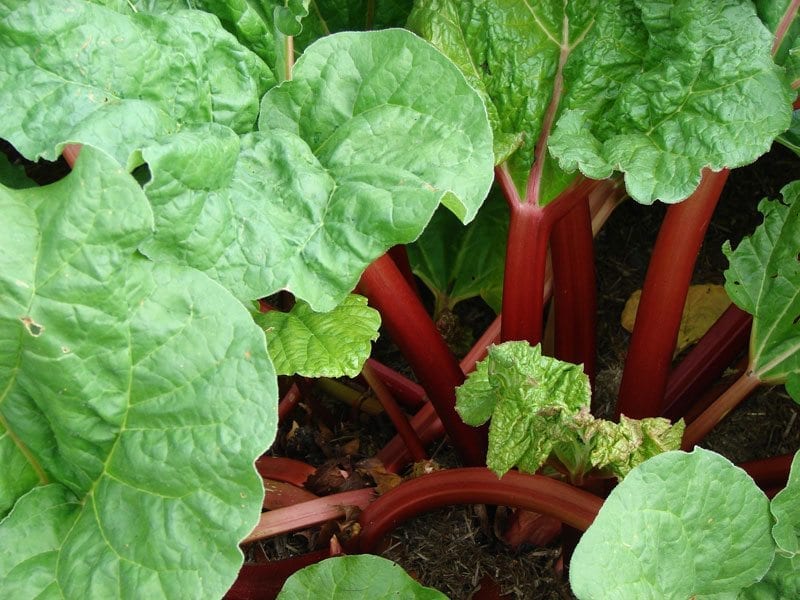 The variety we offer is great both for cooking or eating raw. It produces large red stalks year after year.
Our rhubarb crowns are sold individually. Please have a look at our Catalog for more information and a description of the variety we offer.
All nursery stock is available from the first on April through to early June, but do not wait to order as many varieties sell out very fast. No orders will be held after June 1st, 2022 unless it has been paid in full.
Canada Red
Brightly colored large, red stalks with light red center.
Rhubarb grows well in almost all soil types but does best on well-drained, fertile soil. The field should be free of weeds and well tilled prior to planting. The rhubarb crowns should be spaced 24-48 inches apart and rows should be 3-4 feet apart (or decrease to 2-3 feet apart for smaller gardens). In the first year of planting the stalks should not be harvested, but the flower stalks should be removed. Plant the crowns and roots one to two inches below soil surface and add in some organic matter around the hole. Rhubarb is ready to be harvested when the stalks are bright and shiny red.
Special Note
While we guarantee satisfaction, we cannot be held liable in any way for more then the purchase price of the plants. We cannot be held liable for orders lost or damaged in transport due to improper address or shipping delays. If you are not satisfied with the plants you receive please contact us immediately as all claims must be in by the first of July.
Address
C.O. Keddy Nursery Inc
982 Charles Keddy Rd
Lakeville, NS
B4N 3V7
Contact
Phone number: 1-902-678-4497
Fax: 1-902-678-0067
keddynursery@xcountry.tv