A favorite by all, we offer a selection of hardy raspberry varieties that will suit your growing needs.
NOTE: We no longer accept small orders. Minimum order of 25 raspberry canes per variety.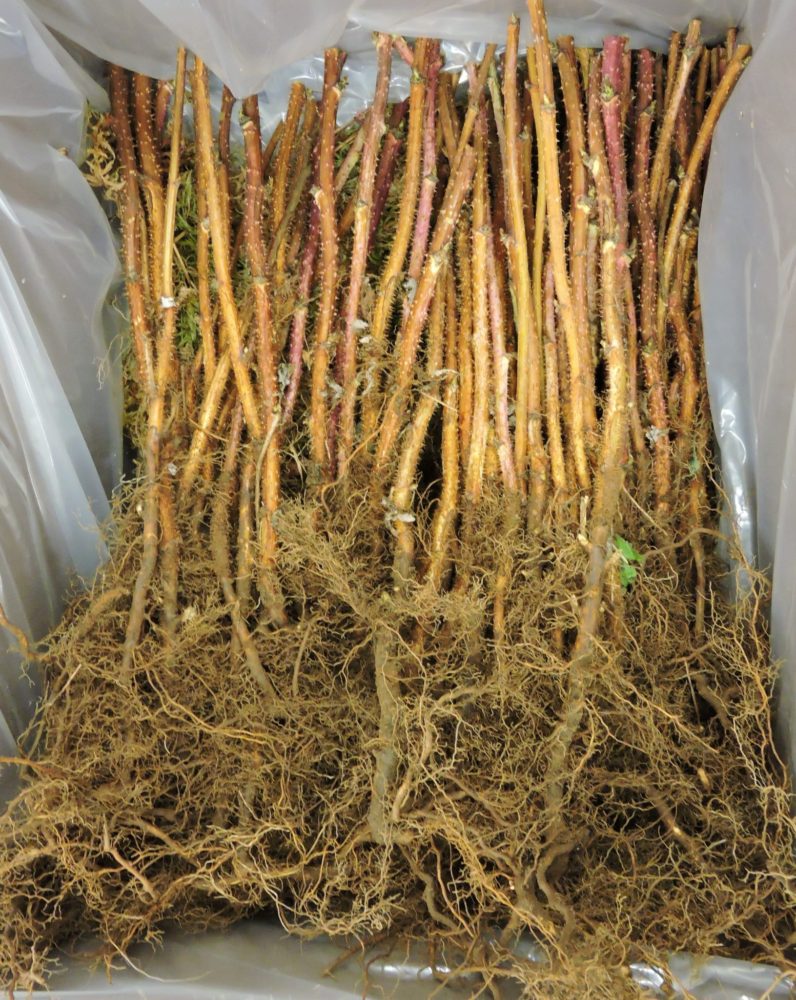 Whether you are looking for early, mid or late berries we have a wide range that produce beautiful and flavorful berries sure to delight your customer.
Our raspberry canes are packaged in bundles of 10. All nursery stock is available from the first on April through to early June, but do not wait to order as many varieties sell out very fast. No orders will be held after June 1st, unless it has been paid in full. Many of our varieties sell out very quickly so be sure to get your order in early. Please have a look at our Catalog for a list of varieties, more information and descriptions on each variety.
Killarney
Mid-early season variety with excellent quality deep red, firm, sweet berries. Very cold hardy.
Prelude
Early variety. Excellent quality of round, red good flavor, Winter hardy, vigorous canes.
Boyne
This mid-season variety is medium to tall in height. Canes are productive and very winter hardy. Berries are medium in size with good flavor.
AACEden
Early to Mid season. Canes are spineless, fruit is firm, large, conical, excellent flavor. We are unable to ship to Quebec or the U.S.

Nova
This mid-season variety is tall, nearly spineless and high yielding. Plants tend to flower in the fall. Winter hardy. Medium-large bright red firm fruit.
K81-6
Mid-late variety is medium to tall with a few spines near the base. Medium red fruit of medium firmness is very large. Good hardiness.
Encore
Mid late season winter hardy, large berries with good flavor.
Royalty
This late variety has a large, vigorous cane and produces medium firm, large berries. The sweet fruit can be picked either red or purple. Royalty is less tart than other varieties.
Heritage  *Everbearing*
This variety fruits mid-summer and then again in September or October. This variety is winter hardy and upright. Heritage produces medium, firm, flavorful red berries.
Anne 
Yellow – Fall Bearing.
Raspberries grow best on sandy soil with lots of drainage, in full sun. While they require adequate drainage to prevent root rot, the soil also should be able to hold moisture without becoming waterlogged. Avoid areas where tomatoes, potatoes, peppers or eggplants have previously been grown, as they are susceptible to soil-borne diseases that these crops can host. It is beneficial to work some organic matter into the soil prior to planting to provide both nutrition and moisture to the plants. A soil test can be used to determine any inadequacies or adjustments that the soil may require. Be sure to adequately till and rid the soil of weeds before planting. The pH level for raspberries is not critical but for optimal growth levels between 5.8 and 6.5 are recommended.
We recommend an early spring planting. Low temperatures will not harm the new planting of canes. A good amount of fruiting canes is 12-15 canes per meter of row. Plant canes 2-3 feet apart and approximately 8-10 feet between rows. A trellis system will be necessary to help support the plants and keep fruit off the ground. There are many examples of successful trellis systems online. Canes should be planted 2 inches deeper then the soil line that will be visible on the stem. Fertilizing with 10-10-10 is recommended in the spring and then again in July.
It is recommended to cultivate to eliminate weeds and aerate the soil. Weed control the first two years after panting it the most important as this will allow plants to easily establish. During fruit development plants are recommended to have 3-5cm of water each week. Raspberries use more soil moisture than most fruit plants. Irrigated plants are more vigorous and yield fruit over a longer season compared to un-irrigated plants. Most raspberry varieties fruit on two year old wood, after a cane produces fruit, it dies. These canes should be cut off and removed to allow more room for the green canes to grow and produce fruit the following year.
Raspberries are ready to be picked when they develop a deep red color, or the color dependent on variety. When picked they should be removed easily from the stem. At the peak of ripening they can be harvested daily, or every other day. Berries do have a short shelf life so storing in a cool place is necessary to keep the fruit for any length of time.
Special Note
While we guarantee satisfaction, we cannot be held liable in any way for more then the purchase price of the plants. We cannot be held liable for orders lost or damaged in transport due to improper address or shipping delays. If you are not satisfied with the plants you receive please contact us immediately as all claims must be in by the first of July.
Address
C.O. Keddy Nursery Inc
982 Charles Keddy Rd
Lakeville, NS
B4N 3V7
Contact
Phone number: 1-902-678-4497
Fax: 1-902-678-0067
keddynursery@xcountry.tv