Here at C.O. Keddy Nursery Inc we offer a large selection of strawberry varieties that are sure to please.
NOTE: We no longer are accepting small orders. Minimum order of strawberry plants is 100 of one kind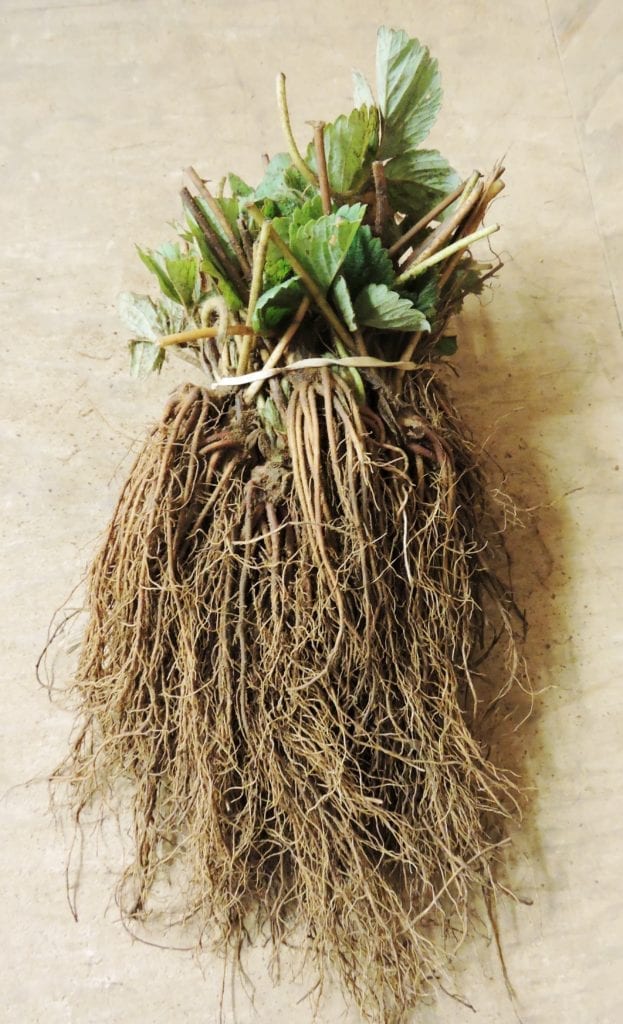 Whether you are looking for a u-pick, commercial or small scale production we have a variety to suit your needs.
Our strawberries are packed in bundles of 25, we try to allow an extra 4% per 1000 plants for packing errors. Our nursery stock is available from the first of April through to early June but do not wait to order, as many varieties sell out very fast. No orders will be held after June 1st, unless it has been paid in full. Some varieties are subject to a royalty fee which helps to support various breeding programs, please reference below for more information. For smaller orders into the U.S. Please contact us first.
A dollar for research
As in other years, our nursery will be sending $1.00 for every 1000 plants sold to the North American Strawberry Research Foundation. Most strawberry nurseries in Canada and the U.S. participate in this program to support strawberry research in North America. Several research projects in Nova Scotia have received funds from the foundation. For more information contact:
North American Strawberry Grower's Association
72 Julia Drive, Welland, Ontario L3C 0E7
Phone 613-558-3220 info@nasga.org
Sable
Early season, berry is bright, attractive and has good flavor. RSR*.
Galetta
Early, June-bearing strawberry. Large berries that freeze well. Plants are vigorous and runner well. RSR.
AC -Wendy
Productive, early, medium to large, firm fruit Excellent flavor. Some resistance to powdery mildew and red stele.
Annapolis
Large, firm, early season, ideal fresh market berry. RSR.
Archer
Mid, early season. Cold tolerant variety that produces very large, very sweet berries. Uniform conic shape.
Flavorfest
Mid season variety. LArge berries with excellent flavor. Longer growing season than most othercommercial varieties. RSR.
Honeoye
Mid-early variety with superior yield and appearance. Excellent shipping berry.
Archer
Mid, early season. Cold tolerant variety that produces very large, very sweet berries. Uniform conic, shape.
Flavorfest
Mid-season variety. Large berries with excellent flavour. Longer growing season then most other commercial varieties. RSR.
Cavendish
Large, firm mid-season fruit with excellent yields. RSR.
Brunswick
Productive, mid-season berry. Uniform shape and color. RSR.
AAC-Lila
Mid-season, good flavor, large conical firm, medium red berries, shows some resistance to RSR. Sorry no sales to Quebec or the U.S.
AAC – Audrey
Mid-season variety producing large firm berries. Berries are sweet and very tasty. Leaves are moderately susceptible to powdery mildew, similar to Mira.
Kent
Mid-season variety vigorous plants, high yields. Berries excellent in size and appearance.
Mira
Firm, bright mid-season berries. Heavy production. RSR.
Laurel
(K93-20) – Mid -season, medium- large size, medium red colored berry, excellent flavor, average yield. Good resistance to RSR,& black root rot.
Keepsake
Mid-season variety. Medium to large, firm fruit. Nice color, and excellent flavour.
Dickens
Mid, June bearing strawberry with high yields that bear late into the season. Firm but flavourful berries. Suitable to cold-winter climates. Root rot tolerant.
AAC-Kate
A mid-late season variety producing large to very large, firm but juicy berries. Moderately resistant to powdery mildew.
AAC- Evelyn
A mid-late season variety, producing very large firm berries that have good flavour and a glossy appearance.
Jewel
Mid-late season variety has large berries of excellent quality and flavor. Vigorous plant growth.
Govenor Simcoe
Late, midseason variety. Berries are firm, and ship well. Mild, pleasant flavour.
Cabot
Very large, bright red, juicy mid-late berry. Soft skin, firm flesh. RSR.
AC Valley Sunset
Very late, large sweet berries. This variety will be producing when all other varieties are finished.
Malwina
A high quality, very late season variety. Fruit is glossy and dark red having excellent flavour. Berries are large, and hold size well through the season. Shows resistance to mildew.
Everbearing Varieties
Seascape
Good producer of large, good flavor berries.
Albion
Berries are large bright red color, firm and good flavor.
*RSR* Red Stele Resistant
Site selection of the plants is one of the most important considerations for berry production, as it will affect your overall yield. The ideal conditions for strawberry production is in a well-drained, sandy field with a pH of 6.0 to 6.5. They are tolerant to a wide range of soil conditions provided there is adequate drainage. Raised beds can be used if drainage is not ideal. Heavy clays should be avoided. In order to increase fertility the application of manure, green manure and fertilizers can be helpful. A soil test should be used to determine any inadequacies or adjustments that the soil may require. Do not plant where potatoes, tomatoes, eggplant and peppers have recently been planted as these plants can host Verticillium Wilt, a soil borne disease that can be detrimental to your crop. Strawberries require full sun for optimum berry production so select somewhere away from the shade of trees or buildings.
We recommend preparing the soil a year in advance to control preannual weeds and grasses. Plants should be planted as soon as possible after receiving them. Do not freeze plants after they are received but they can be stored in a cool place for a few days. Do not allow roots to become too dry or too wet. Plant spacing will be variety and system dependent but on average 18-24 inches apart is ideal with approximately 48-60 inches between rows. Be sure to plant so the crown is even with the soil surface and all roots are under the soil.
For optimum production weed control is essential. Shallow tilling near the plants will help to eliminate weeds and aerate the soil. Strawberries require large amounts of water for both irrigation and potential frost protection. Typical summer fruiting strawberries require about 1 inch of water per week so ensuring that your irrigation system is in proper working order is essential for berry production. In your first year removing the blossoms, irrigation, fertilizing are all practices that will help establish your crop and aid in a successful crop the following year.
The stage of ripeness at harvest will help to maintain quality and storage life once harvested. Fruit harvested before it is fully mature will have a longer shelf life. Fruit that is fully ripe can tend to be soft, but will have the best flavor.
Special Note
While we guarantee satisfaction, we cannot be held liable in any way for more then the purchase price of the plants. We cannot be held liable for orders lost or damaged in transport due to improper address or shipping delays. If you are not satisfied with the plants you receive please contact us immediately as all claims must be in by the first of July.
If you are coming to pick up strawberry plants at the nursery be sure to bring something to cover them with, to protect them from the sun. When plants thaw out too quickly it can cause damage to the crowns
Address
C.O. Keddy Nursery Inc
982 Charles Keddy Rd
Lakeville, NS
B4N 3V7
Contact
Phone number: 1-902-678-4497
Fax: 1-902-678-0067
keddynursery@xcountry.tv