We offer three types of sweet and tasty blackberry varieties. We have available two thornless varieties as well as one thorned variety.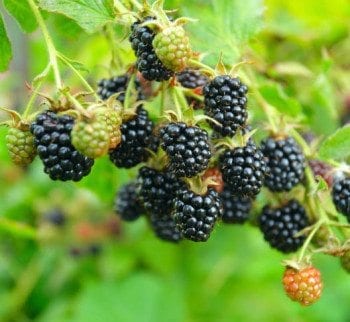 Our canes are winter hardy and suited to our Canadian climate. Each cane offers high quality, large size fruit.
Blackberry canes are sold individually. All nursery stock is available from the first on April through to early June, but do not wait to order as many varieties sell out very fast. No orders will be held after June 1st, 2022 unless it has been paid in full. Please have a look at our list for more information and descriptions on each variety. Please note that due to U.S. regulations we are unable to ship blackberries to the United States.
*BLACKBERRIES ARE CURRENTLY OUT OF STOCK*
Chester
(Thornless) This variety produces high quality, tasty berries. Moderately winter hardy, may require some winter protection.
Balsor's Hardi Black
This very winter hardy blackberry has grown in Nova Scotia for a long time. Berries are large and tasty. Canes have thorns.
Triple Crown
Similar to Chester in winter hardiness. Plant is semi-erect and thornless, large fruit that ripens earlier then Chester.
U.S. customers please note that due to U.S. regulations, we are unable to ship blackberries to the United States.
Blackberries are very much the same in their needs as raspberries. Do not plant new plants where herbicides have been used.
Follow the same planting instructions as raspberries, except the planting distance is 3-5 feet apart.
A trellis system is beneficial for both fruit production and keeping the berries off the ground, much the same as raspberries. Blackberries also produce on a 2 year old wood, so canes that produce fruit, should be removed at the end of the fruiting season. This will stimulate production of new, stronger shoots for the following season.
Fruit ripens in late July through to early August. Fruit should be picked early in the morning for best quality. Do not pick blackberries too soon as they will taste sour. Berries are best picked once they start to lose their shiny color and turn a duller black.
Special Note
While we guarantee satisfaction, we cannot be held liable in any way for more then the purchase price of the plants. We cannot be held liable for orders lost or damaged in transport due to improper address or shipping delays. If you are not satisfied with the plants you receive please contact us immediately as all claims must be in by the first of July.
Address
C.O. Keddy Nursery Inc
982 Charles Keddy Rd
Lakeville, NS
B4N 3V7
Contact
Phone number: 1-902-678-4497
Fax: 1-902-678-0067
keddynursery@xcountry.tv